How to Upgrade your Rental Property
by Sky
---
Posted on Saturday August 15, 2020 at 04:03PM in General
---
How to Upgrade your Rental Property
Renovating your rental property can dramatically increase not only the property value but also your rental income. When showing potential tenants a unit, you want them to be able to picture themselves living there. There is no need to change every detail and make the space perfect; you can make small changes to create a more livable unit. The trick for renovation is to minimize costs while maximizing your return on investment. Here are a few tips to help you upgrade your property while not overspending.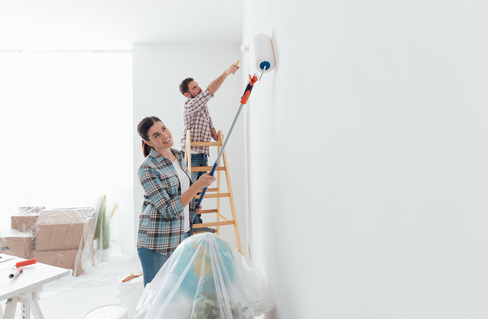 Prioritize kitchens and bathrooms

Kitchens and bathrooms are spaces that potential tenants shouldn't have to question the cleanliness of. No one wants to be wondering if there is mold in their shower or if the stove is too outdated.

These two rooms attract the eye of your potential tenants and an updated kitchen or bathroom will draw tenants to your property. Along with pleasing tenants, you will get about an 80% return on investment with a kitchen or bathroom upgrade (which is much higher than most renovations).

To add to the value of your kitchen, consider adding backsplashes. They add value to your property, and are easy to clean and durable. When choosing a perfect backsplash for your unit, don't choose trendy colors or a design that won't be popular next year. Instead choose something like white tiles that are timeless and won't date your property.

Replace fixtures and clean the space often

Minor fixture upgrades and replacements can keep your property looking updated and clean without the cost of a remodel. Some examples of fixtures to easily replace are leaky faucets, outdated lighting, door handles that stick, shower heads, toilet seats, blinds missing slats, cabinets that have lost their finish, and toilets that run constantly.

It is essential that you keep the property clean especially between tenants. Hiring a professional service is worth it if you don't want to clean yourself. To give your property a clean feel all around, you could consider paying for a pressure wash of the outside of the property, or do it yourself.

Remember to repaint your unit. A fresh coat of paint will make your property look cleaner and newer! It is recommended to repaint at least every five years to ensure that your property looks its best.

Make repairs before replacing

It is unnecessary and expensive to remodel your entire property between tenants. In most cases, a simple repair of parts of your rental will be much more practical. When making repairs, make sure to keep records of your receipts for tax claim deduction purposes.

When thinking about replacing carpets, remember that it is only necessary to replace them about every seven years. Try hiring professionals or cleaning the carpet yourself to give the room a clean feel without the extra cost. Consider replacing carpet with tile, wood planks, or vinyl planks. The initial cost is typically higher, but these surfaces last longer and are easier to clean.

The ceilings of your property will probably look clean and won't need to be repainted. Unless your tenants were extra messy or heavy smokers, you can save money with a simple clean instead of a repaint.

Most people will consider replacing the cabinets entirely when sometimes replacing only the doors or giving it some fresh paint will do the trick.

The front door of your unit will be your potential tenant's welcome into the house. If it is scratched or has a sticky handle, consider mending or replacing it.

Bring some light into the space

A room with good lighting will feel more welcoming and show off the space you are trying to sell. Choose lighting that is appropriate for the space. Soft lighting works better in the bedrooms and bright lighting is best for the kitchen.

Keep a tidy yard

The outside of a unit is less important than the living space inside, but it will be the first thing your potential tenant sees. It is important to keep it looking tidy and maintained.

Some suggestions for maintaining your yard: mow the grass, cut back overgrown bushes and trees (especially in a garden), spread some new soil or mulch around flowerbeds and bushes, make sure a good view isn't obstructed, and secure gates, loose stones, and broken items.
With these tips your property will be ready to show to potential tenants! Making improvements can be simple and easy!
Visit https://www.schedulemyrent.com or call us at (844) 465-3339
---
---