Collecting Rent Online: Your Questions Answered
by Kris
---
Posted on Monday December 13, 2021 at 08:00AM in General
---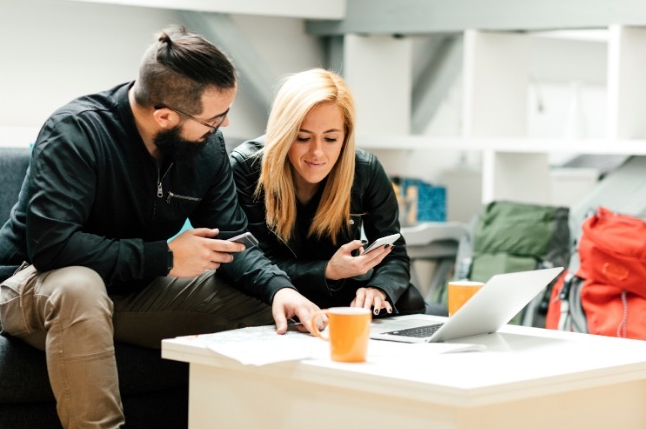 Rent collection - it's one of the most quintessential duties that come with being a landlord. In many ways, it can be a gratifying experience. After all, there's something undeniably satisfying about marching up to one of your properties and collecting payment from your tenants. Over time, however, it's likely that that shine will start to fade. It can get tedious to go through the same process over and over again, each and every month.
There have been plenty of rent collection methods developed over the past few years, but none of them have managed to truly simplify the process. Landlords and tenants have tried options as varied as checks, cash, and even direct bank-to-bank transfers to try and manage the rent collection process. Inevitably, though, all of these strategies come with significant drawbacks, such as additional processing fees or inefficient handling.
After years of disappointment with other methods, the ability to collect rent online has absolutely revolutionized the industry.
Collecting rent digitally removes the inefficiency that comes with every other strategy for managing payments. It provides just as many benefits for the landlord as it does for the tenant, taking the stress and unnecessary tedium out of the rent-paying process. At this point, no professional landlord should have to settle for any other payment method. If you're ready to learn more, here are a few common questions and answers about collecting rent online.
Is It Safe to Collect Rent Online?
Yes, online rent collection is completely safe and secure. Reputable rental management platforms such as Schedule My Rent use high-level encryption software to protect every payment and ensure that every transaction works smoothly.
As a general rule, online payments are safer than paying with cash or check. By keeping financial information confidential between you, your tenants, and your respective banks, collecting rent online makes it nearly impossible for your bank information to end up in the wrong hands. Meanwhile, physical payments such as checks can present numerous security issues if they fall into the wrong hands.
How Long Does It Take to Collect Rent Online?
Depending on the software used, rent can be collected online in as little as one day. In general, though, most rental management platforms allow landlords to receive rent within a few business days of the initial payment. Some apps can expedite the process for a small additional fee.
Regardless, digitally collecting rent is significantly faster and more convenient than other, more traditional methods. It makes it simple to exchange funds without ever having to make physical contact or worry about cashing checks.
Can You Automate Online Rent Collections?
With the right app, online rent collection can be a completely hands-off, automated experience for you and your tenant. Rent software can let you customize your collection schedule, whether that's once a week, once a month, or anything in-between.
Automated payments can take a major burden off you and your tenant's shoulders. Tenants find it far easier to pay rent when the service is entirely digital, which makes it simple to keep up with regular expenses and stay on top of rent.
Does Online Rent Collection Reduce Missed Payments?
Paying rent online makes it significantly easier for your tenants to keep up with payments. Tenants with the ability to pay rent online are far more likely to avoid missing payments and instead pay rent on time, every month. Digital rent apps often send frequent updates to tenants and landlords that make it easy to stay on top of deadlines and expenses.
How Does Online Rent Collection Provide Flexibility?
While physical payments like checks or cash had very limited uses and functionality, paying rent online gives the tenant and landlord alike significantly more flexibility to pay how they need. For example, online rent payment platforms make it simple for tenants to split rents between their roommates or family members, or even set up specific one-time payments when necessary.
Does Collecting Rent Digitally Cost More Than Other Methods?
Not if you use the right app! Platforms like Schedule My Rent provide completely affordable and dependable payment models for collecting rent digitally. Sometimes, collecting rent online will require a nominal fee that is often as low as a dollar or two. In addition, you can save money since services like Schedule My Rent don't charge for returned payments while banks often charge from $10 to $35 to both the landlord and the tenant for returned payments.
However, even if online rent payments charge an additional cost, they also provide major savings in terms of time and convenience. Rather than having to physically collect money from a tenant or having to wait for a check in the mail, digital rent collection allows landlords to quickly receive their funds in a fraction of the time and carry on with their business duties.
What if you tenant doesn't have internet access or a bank account?
As a landlord, you want to provide the easiest way possible for a tenant to make payments. Most landlords don't accept cash directly because it is very time consuming and could be dangerous to meet tenants, collect cash, and then carry the cash around until you have a chance to go to the bank. Instead of meeting tenants directly, Schedule My Rent allows tenants to pay with cash at thousands of retailers across the United States, such as Walmart and CVS. Tenants can make payments anytime the retailer is open, so scheduling and security is not an issue anymore. Once the tenant pays, Schedule My Rent automatically sends a receipt and transfers the money to the landlord's bank account.
Will You Be Notified If Anything Strange Happens With Your Rental?
While the specific services vary depending on which kind of app you use, many platforms provide frequent updates to keep you aware of the status on your payments. For example, you may be promptly notified if a tenant misses a payment or if any other suspicious activity occurs. If any payments are denied or missed, both you and your tenants will be notified and given instructions on how to proceed.
What Is the Best Way to Collect Rent Online?
There are countless rent collection platforms on the market today. However, while it might feel easy to get overwhelmed by the seemingly-limitless options, Schedule My Rent is easily the industry's best choice for landlords and tenants when it comes to efficiency, convenience, and functionality.
Collect Rent Online with Schedule My Rent
At Schedule My Rent, we've taken time to develop a robust platform that can address all the unique needs of landlords and their tenants. With our app, it's simple for residents to make payments however suits them best. We even allow them to pay with cash at participating retailers such as Walmart and CVS, giving your clients the flexibility they need to do business with you.
Our program also enables landlords to stay in control of the rental process, including late fees and scheduling. Whether you want to collect rent weekly or monthly, we empower you to run your business how you see fit.

Contact us at (844) 465-3339 for more information about collecting rent online today!
Tags: collect-rent-online rental-property-management-software
---
---