Types of Property Management Notices for Landords
by Sky
---
Posted on Thursday October 28, 2021 at 01:14PM in General
---
As a landlord, you will encounter many different situations which require different legal notices. For the best results, you should send your tenant a formal notice through certified mail with a return receipt requested (via the US Postal Service). Certified mail provides proof that your tenant received the notice which will be helpful if you end up in court.
We have provided the most common notice types and some examples of the best ways to write them for all your property management needs.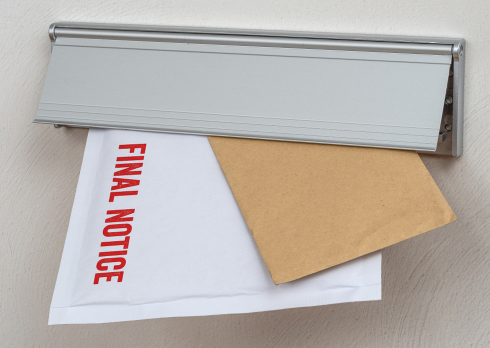 1.

Notice of entry / intent to enter
The most common notice is letting your tenant know that you will be entering their unit. It is important to know the requirements for your state, but in most states landlords must give notice to their tenant before entering an occupied premises. The industry best practice is to give 24 hours' notice even if a notice isn't required in your state.
You are also able to send your "intent to enter" though an email or text message (depending on your state), but it is important to receive a reply of confirmation from your tenant. If you don't receive this, you should consider sending a postal letter if time permits.
If there is an emergency (water leaking into downstairs apartment, etc.), landlords are typically allowed to enter without the typical notice.
Here is an example of a common notice to enter:
"If it's convenient, I will be stopping by your unit between 1pm and 5pm on Thursday, August 12th, to do some routine maintenance."

2. Notice of repairs, renovations, or outages
This notice can often accompany the Notice of Entry (as discussed above) if someone has to enter the unit to make repairs. This notice should include what work will be done on the unit, the date that the repair or renovation will take place, and the expected time any outage will last.
An example of a repair notice:
"A contractor will be coming by your unit on Saturday to change the electrical panel, and the power will be out all of Saturday."
If you are cutting off your tenants essential services (heat, water, electricity, etc.) for more than one day, you should consider relocating your tenant to a hotel (at your expense) until the repair is finished. If your tenant doesn't have access to these essential services, then the unit is considered uninhabitable.
3.

Offer of Renewal
If you have a fixed-term lease with your tenant, it may not have an auto-renew clause. If your tenant would like to stay in the unit, you both will have to sign a renewal agreement. You should send the offer of renewal 60 to 80 days prior to when the lease ends (especially if your tenant needs to provide a 60 days' notice before the move out).
This letter can include the date the fixed term lease is set to expire, the tenant's name, the address of their unit, your offer to renew the lease, the date when you need to be notified if they intend to move out, your name, and your signature.
An example:
"The fixed-term lease for (tenant's name) at (tenant's property) is set to expire on (MM/DD/YYYY), and I am pleased to offer you a renewal. Please notify me of your decision by (MM/DD/YYYY). Thank you, (your name)."
4. Notice of non-renewal
If you are not planning to offer your tenant a renewal, it is important to notify them that their lease will not be renewed and give them a move-out date. You can terminate a periodic lease (daily, weekly, monthly, or yearly) by sending your tenant this notice of non-renewal. This notice is also called a "no-cause eviction" because the landlord and tenant can terminate their periodic lease (with proper notice) at any time. You can also use this notice of non-renewal if your lease auto-renews but you would prefer if it didn't.
Make sure to review your state laws to verify the amount of notice you need to provide your tenant before they move out. In most cases, the amount of notice is between 7 to 60 days.
Here is an example of a notice of non-renewal:
"The lease or monthly rental agreement for (tenant's name) at (tenant's property) is set to expire on (MM/DD/YYYY), and a renewal will not be offered. You will be expected to vacate your unit on or before (MM/DD/YYYY). Thank you, (your name)."
5.

Notice of rent increase
In most circumstances, you can't raise your tenant's rent mid-lease, so this notice is often accompanied by the offer or renewal (mentioned above). This notice includes the percentage of increase of the rent amount, the new rent amount, and the start date. You should typically send this notice 30 to 60 days in advance depending on the laws of your state.
When sending this notice be sure to consider the ramifications of choosing to raise the rent of your tenant. If your tenant gets upset by the rent increase and decides to move out, you will have an abundance of new tasks to prepare for your next tenant (including cleaning, repairs/updates, re-listing your property, hosting viewings, and screening potential tenants). Even after this process your unit could still be unoccupied. If you have a great tenant, you might consider choosing not to increase the rent amount every year and instead make up the difference once your tenant does decide to move out and a new tenant moves in.
The downside to not increasing rent is that you may lose money due to inflation, rising property taxes, or other expenses. It is important to consider all the options when deciding if a rent increase is the right decision for your property and tenants.
Example of rent increase notice:
"Your rent will increase by (X)% to $(X) per month starting on (MM/DD/YYYY)."

6. Notice of transfer of ownership / management
This notice is sent to a tenant if you sell your rental property to another individual or company. You can also use this notice if you are changing management companies.
Your tenants' leases don't automatically terminate on the sale of a property (unless specified in the lease), instead they are transferred to the new owner. The new owner becomes the new landlord, and the tenants are usually able to live in their rental unit through the rest of the lease. This notice tells your tenant what the new situation is.
It is important to always review your state laws, because in this situation (in some states) the tenant may have first right of refusal. This means that as a property owner, you can't sell the property to anyone else unless your tenant has signed a form saying that they don't want to buy the property themselves.
Here is a common notice of transfer:
"Effective immediately, I have transferred ownership of this property to (owner's name). (Owner) will contact you to provide instructions for paying your rent)."

7. Notice to pay or quit
This notice is sent to tenants if they are late on paying their rent (including any grace period). In sending this notice, you are telling your tenant that they need to pay their past due rent within a certain amount of days or their lease will be terminated and they will have to move out.
This notice does not give landlords the ability to cut off utilities or lock the tenant out. Landlords need to go thought the formal eviction process in order to have their tenant removed by the police. Your state laws will provide you with the amount of time a landlord must give a tenant to move out.
Here is an example:
"You have (X) days to pay your past due rent, or I will terminate your lease and you will have to move out of the unit"
For more information on what to do if your tenant won't pay their rent visit: https://www.schedulemyrent.com/blog/
8.

Notice to cure or quit
This notice is similar to the "pay or quit" notice mentioned above. It is sent to a tenant if they violate a condition, rule, or clause in the lease agreement. For example, your tenant moved in an unapproved roommate, brought in a pet when their lease specified a no pet rule, or made unapproved renovations to the property.
In most situations, you should give your tenant a time frame to "cure" the problem. After that time frame, you can begin the eviction process for that tenant. If the tenant remedies their violation, you can decide to continue to let them live in their unit.
An example:
"You have (X) days to fix the violation (specify the violation), or I will terminate your lease and you will have to move out of your unit."

9. Unconditional quit notice
In the previous two notices, your tenant is able to fix whatever problem you notified them of in a certain number of days. With an unconditional quit notice, your tenant is not given the opportunity to continue to live in their rental unit (regardless of if they have fixed the problem).
The most common situations for this type of notice are the tenant is late on rent more than once, the tenant has caused serious damage to the property (including unrepairable damage), the tenant is participating in illegal activity on the premises, or the tenant has repeated the violation or offense.
An unconditional quit notice is the harshest of all the notices and some states don't allow them. Even states allowing this notice have strict guidelines on their usage, so make sure to contact a lawyer before sending your tenant an unconditional quit notice.
An example of an unconditional quit notice:
"Your lease is being terminated because ____. Please vacate the premises by (MM/DD/YYYY)."

10. Notice of intent to dispose of abandoned personal property
Before sending this notice to your tenant, make sure that the property was actually abandoned. Once you have determined this, you can send a notice of your intent to dispose of the property.
The state laws vary substantially for how landlords are required to manage personal property that their tenants have abandoned. Different states require different courses of action including: sending a 30-day letter to their last known address, a description of the property for the tenant to identify, and storage of the items for a set period of time. Some states even allow the landlord to sell or throw out the items immediately after the tenant has moved out. Make sure to know the laws for your state in this situation.
---
---